The results of the Board exams for grades 10 and 12 are declared and our students who are the beneficiaries of the Virtual Classroom Learning.
NCERT Syllabus was introduced for the first time in 2018-19 for the students of grade 10 and our students have done better than expected.
| | |
| --- | --- |
| Details | Total |
| Distinction | 523 |
| 1st Class | 2,564 |
| 2nd Class | 796 |
| Pass Class | 107 |
| Failures | 813 |
| Total | 4,803 |
Our Scholar Program students have also done extremely well, given below is the graph showing their performance in the Board exam: –
The Scholar Program, an educational initiative for the students of grades 11 and 12 have yielded very good outcomes.
Result Synopsis of the students of grade 11
Out of 100 students 97 have passed (97% pass percentage)
A total of 22 students have scored Distinction
Nachiketha, who was the beneficiary of the virtual classroom learning program now is also reaping the benefits of the Scholar Program. He has scored a centum in Mathematics and an aggregate of 583 out of 600 (97.1%).  He is the topper
Roshan has secured 576 out of 600 (96%) with 100% in Mathematics and Chemistry
Anitha, Navya and Jagrathi have scored 100 out of 100 in Mathematics
Megha has scored 100 in Biology
| | |
| --- | --- |
| Details | Total |
| Distinction | 22 |
| 1st Class | 97 |
| 2nd Class | 27 |
| Pass Class | 9 |
| Results not shared | 16 |
| Failures | 3 |
| Total | 174 |
Result Synopsis of the students of grade 12 (Board Exams)
145 students were coached and appeared for the Board exams out of which 134 were from the Karnataka State Board and 11 from the CBSE Board
The results of the State Board have been declared and the results of the CBSE Board will be declared in the month of May
Out of 134 students 133 have passed. Only 1 student has failed.
Karnataka State pass % is 67%, Udupi District pass % is 92%. The pass % of our program is 99.25%
Anusha has scored 586/600 and is placed 9th in Karnataka State. She has scored a centum in Chemistry
Ashika has scored 565/600 with a centum in Mathematics
Princia has scored 565/600
Ajay has scored a 100 in Mathematics
| | |
| --- | --- |
| Distinctions | 30 |
| 1st Class | 99 |
| 2nd Class | 3 |
| Pass Class | 1 |
| Failures | 1 |
| TOTAL | 134 |
Healthcare
As a part of CSR initiative of Dakshin Foundary was organised in the last week of March (25th-29th March) in the villages of Pillagumpe, Begur, Chikkanallurahalli, Chokkahalli, Muthukadahalli, Dodda Koliga, Nakkanahalli, Bhimaknahalli, Shettihalli, Doddanallurahalli Hoskote Area, Bangalore, Karnataka. A team of seven nursing staffs, three support staffs, two ambulances with two EMT (Emergency Medical Technician) were deputed for this health screening camp where 328 people were screened for various tests. Some of these tests were done on the camp sight and the other tests were conducted in the hospital. The actual cost of tests at our Health check department would come to Rs.7500/- for male and Rs.8000 for female. We have extended concessional package of Rs.3900/- for Male and Rs.4200/- for female patients. Patients between the age group of 21 years to 75 years were screened in this camp. No major critical ailment was diagnosed that requires immediate attention, but there were cases with high sugar levels, low Haemoglobin and high cholesterol level in the blood. These people were advised for proper diet, medications and regular follow up.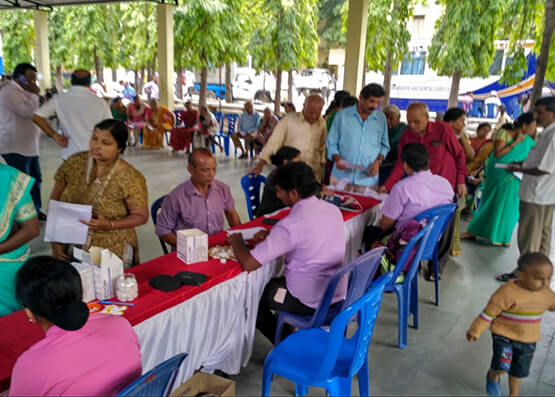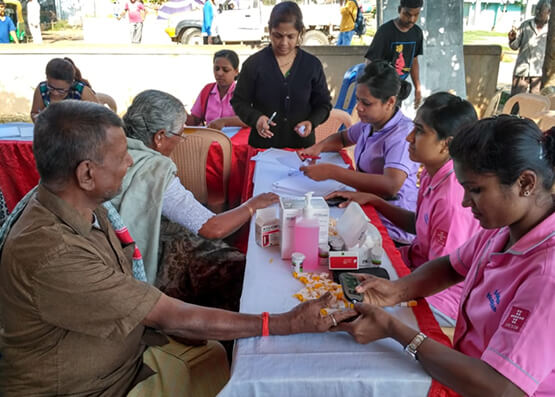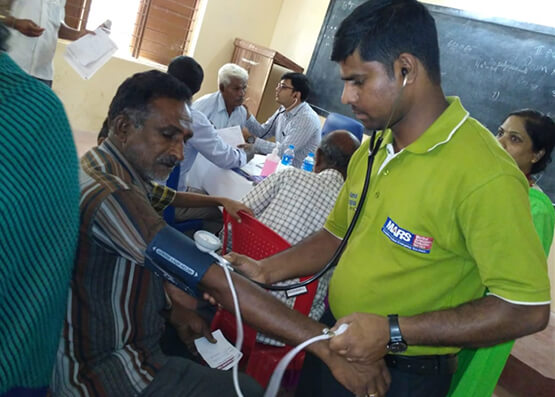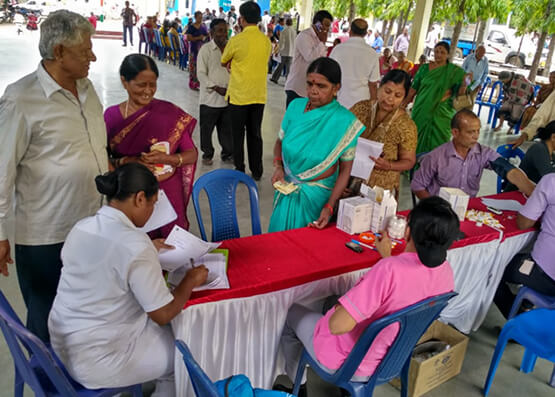 CUDDLES FOUNDATION, an NGO provides fresh, nutritiously balanced, calorie appropriate hot meals to every kid visiting the OPD of NRS Hospital, Kolkata.  These children, who are suffering from cancer, spend more than 8 hours waiting for their turn for treatment.  These meals and snacks, which are planned carefully to avoid monotony and repetition, are specially designed for these children and contains a high degree of protein and calories. Rs.10,00,000/- was utilised to provide hot and nutritious meals to 11,071 kids for a period of 6 months.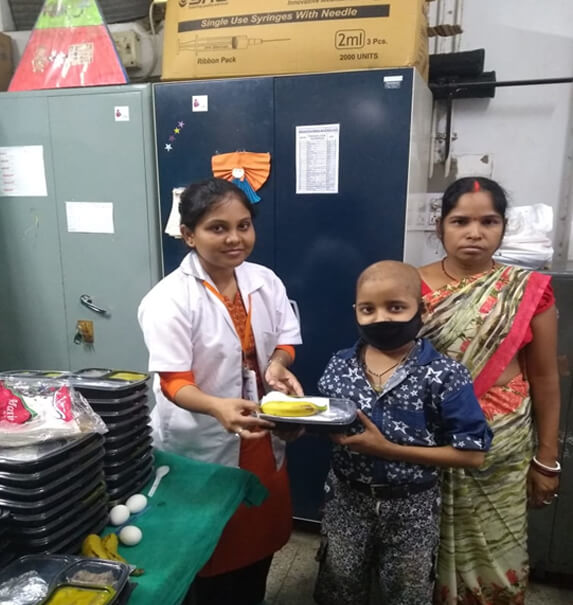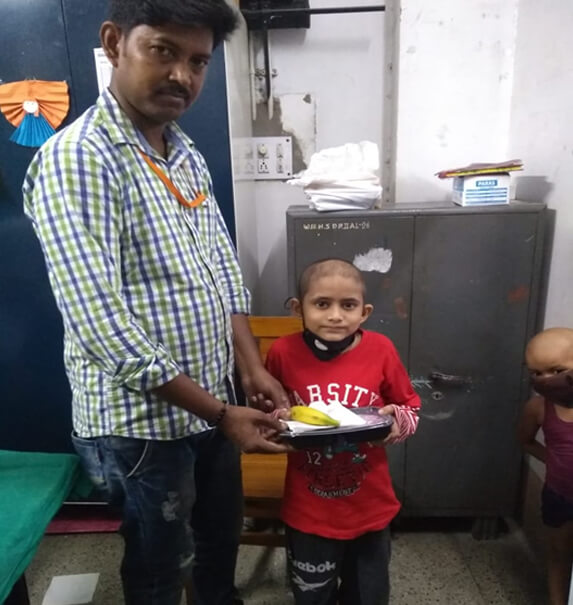 Other Initiatives
Flood Relief collection for Kodagu and Kerala
The residents of Kodagu (Karnataka) and Kerala faced the worst floods in 2018-19, due to which maximum destruction, lives and property was caused.
With the support of the employees from various group institutions and contributions from some of our group companies we have contributed a sum of Rs.8,57,796/- to Kodagu and Rs.1,23,50,531/- to Kerala for their rehabilitation.
Some illustrations of the destruction caused by the floods: –