2022-23 has been a very eventful year for Manipal Foundation. Various CSR projects have been implemented through which we have touched the lives of more than 10000 children through mainstream Education, 500+ children and adults belonging to the lower economic segment through Healthcare.
1.Virtual Classroom Learning Program
| | | |
| --- | --- | --- |
| No. of beneficiary Schools | No. of beneficiary Students | Grades |
| 107 | ~ 11,500 | Grades 9 and 10 |
Given below is the synopsis of the results of the Karnataka Board Exams, grade 10
HIGHLIGHTS
4 students secured 625/625.
Number of distinctions – 925
Number of first class – 1938
Number of second class – 604
2. Scholar Program: – (Approximate Number of beneficiaries – 350 students studying in grades 11 and 12 who have opted for Science)
Through the Scholar Program, a two-year rigorous program for the students of grades 11 and 12 who wish to pursue careers in the Science stream, 570 students benefited (260 from grade 11 and 310 from grade 12).
| | | | | | |
| --- | --- | --- | --- | --- | --- |
| GRADE | DISTINCTION | 1ST CLASS | 2ND CLASS | PASS CLASS | FAIL/ NOT APPEARED |
| 11 | 44 | 141 | 4 | 17 | 9 |
| 12 | 96 | 187 | 20 | 2 | 9 |
HIGHLIGHTS OF RESULTS OF GRADE 12
Sathwik Padmanabh Bhat of Mahamatma Gandhi Memorial College, Udupi, grade 12 scored 595/600 and secured the Second Rank in the state. He has secured an Engineering seat in Manipal Institute of Technology, Manipal.
Students securing cent percent marks in subjects

Physics – One student
Chemistry – One student
Biology – One student
Mathematics – Three students

51 students scored above 90% aggregate marks.
HIGHLIGHTS OF RESULTS OF GRADE 11
Students securing cent percent marks in subjects

Physics – Two students
Chemistry – Four students
Biology – One student
Mathematics – One student

20 students scored above 90% aggregate marks.
Enhancing infrastructure in Government educational institutions
AT JHARKHAND
75 laptops provided at 15 government schools at Jharkhand
AT KARNATAKA
15 desktop computers along with school furniture provided a Government Polytechnic College at Haliyal, Karnataka
Classroom furniture provided to a school at Bellare, Karnataka.
School furniture, toys, vessels etc. provided to schools and Anganwadis at Yelahanka and Kanakpura at Bangalore and Puttur, Karkala and Udupi at Dakshina Kannada.
The toilets have been refurbished, and grills have been installed at Government Primary Schools at Yelahanka, Bangalore
AT RAJASTHAN
Toilets were revamped at the government school at Dehmi Kalan, Jaipur, along with painting of the school
School furniture, computers, fans, ceiling lights, garden games and water-coolers installed in the school
Laptops donated to 15 Government Schools at Jharkhand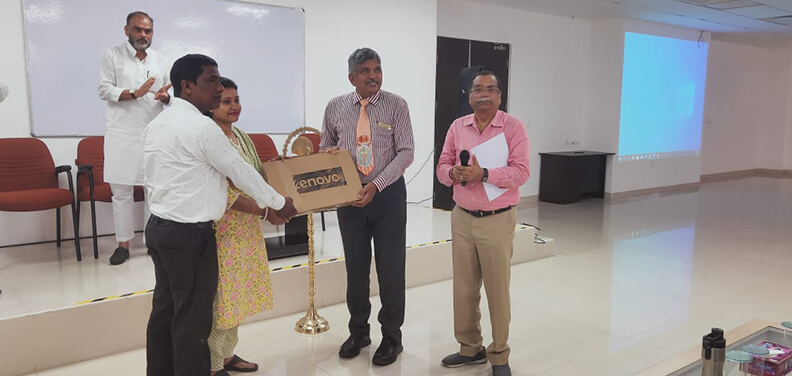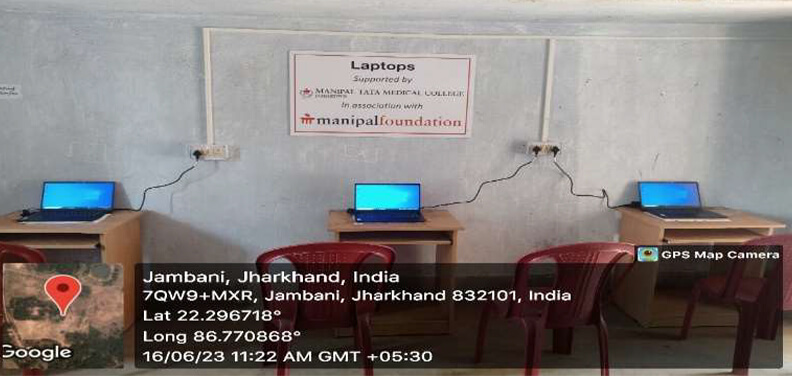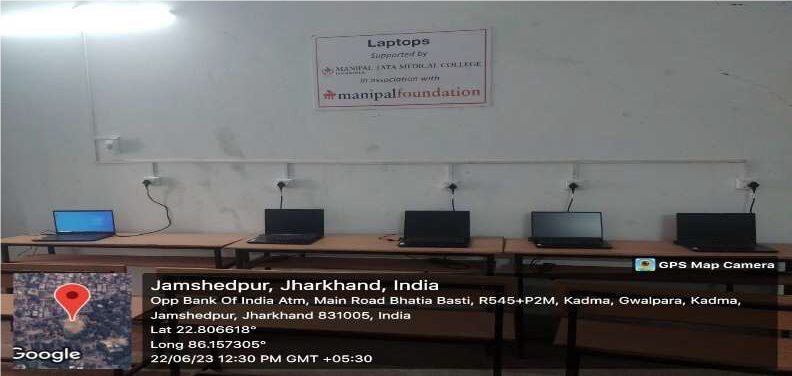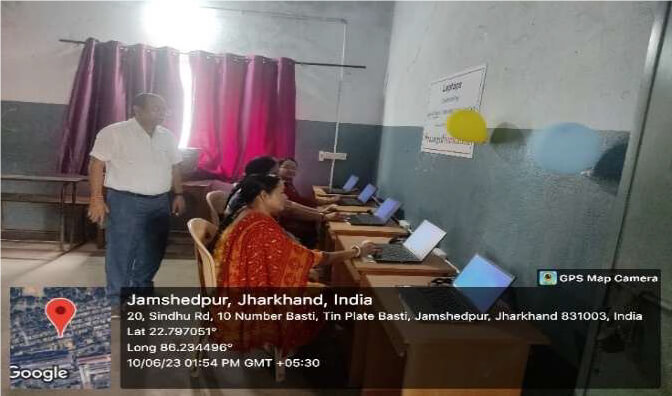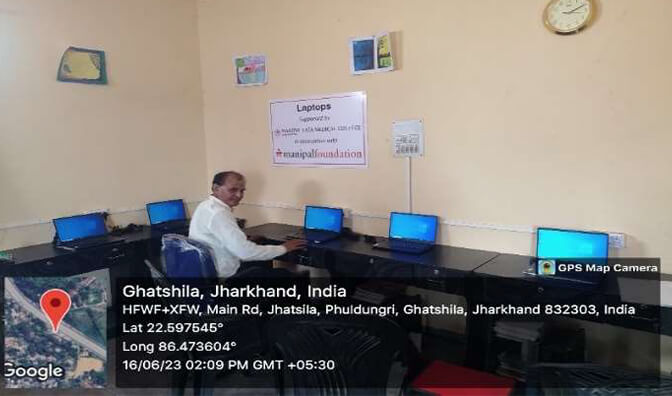 Educational support in terms of tuitions and scholarships
Funding support has been provided to tribal students studying in Kalinga Institute of Social Sciences, Odisha.
Smart Math labs were set up in 10 Government schools in Bangalore to ensure students studying in 5, 6 and 7 find algebraic and geometric concepts easy to understand and retain by using mathematical models.
Other Educational and Awareness Programs
An Educational and Awareness Program explaining the importance of wild animals and sensitivity towards them was conducted in Government schools which are located close to the wildlife reserves.
Books explaining the importance of Yoga and the benefits of various yogic poses were distributed to our beneficiary schools to be kept in their libraries.
An awareness program on the importance of Mental and Physical Health was funded and 6500 students were the beneficiaries of this program.
A 3-year grassroot leadership program for 100 eligible youth residing in villages of Karnataka was funded.
Midday meals were provided through Akshaya Patra Foundation to the students studying in Government Schools.
The training center of DIET department of the Education Department of Government of Karnataka, Udupi has been renovated.
Manipal Foundation has funded the purchase of major equipment to set up a Bone Bank at Kasturba Hospital, Manipal.
27 Vaccine carriers manufactured by Blackfrog located at Manipal were distributed at Primary Health Centres (PHCs) located at Jharkhand to store the vaccines and other bio products like blood etc. which are required to be stored between 2 – 8 degrees Celsius. Similarly, 25 such carriers were distributed to PHCs at Karnataka also.
Funding support was given to 262 needy patients (children and bread winners) to meet their expenses for treatment, procedures and surgeries at Kasturba Hospital, the teaching hospital of Manipal Academy of Higher Education, Manipal.
80 senior citizens belonging to the lower economic segment were financially supported for cataract surgery at Bangalore.
A washing machine, refrigerator, rice cooker, chapati maker, blood pressure measuring device and random blood sugar testing device were donated to Ashraya, an old age home at Bangalore.
Health screening camps were organized for the villagers at 4 villages namely Dehmi Kalan, Begus, Thikaria and Sanjharia (all these villages are in Jaipur, Rajasthan).
Water Coolers were installed near a Legal Aid Clinic by which the local community and ~200 drivers have access to clean and cool drinking water.
Girl students were distributed packets of sanitary napkins.
Funding support was provided to set up center for autistic children, who would be undergoing physiotherapy using devices funded by Manipal Foundation.
Health Camp conducted with the help of students of Manipal University Jaipur and Manipal Hospital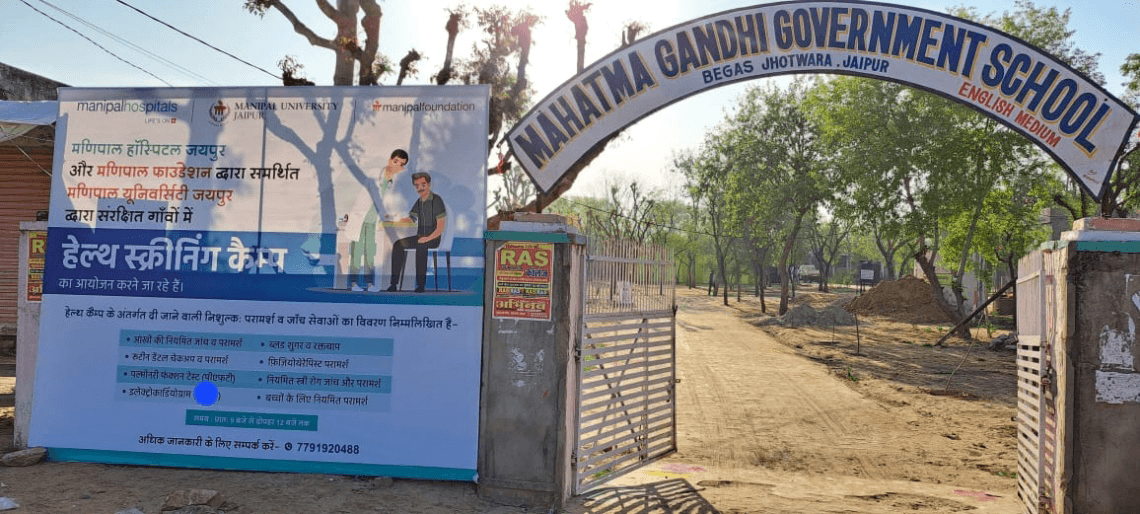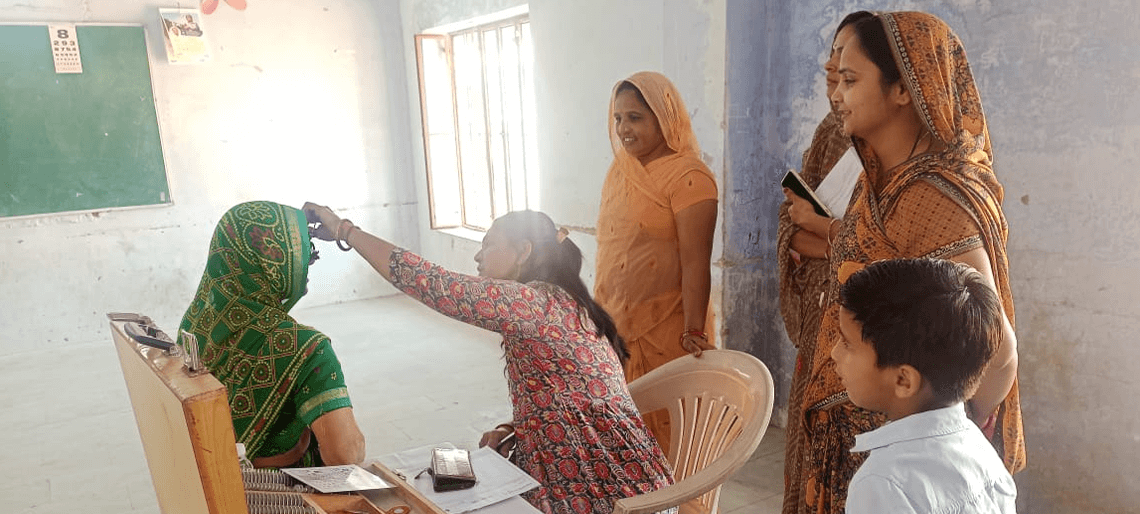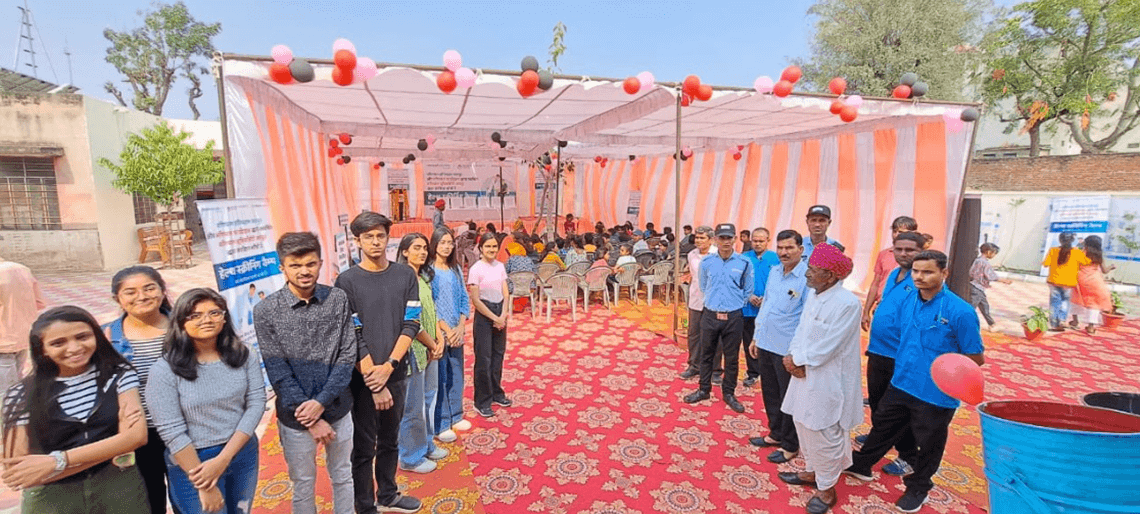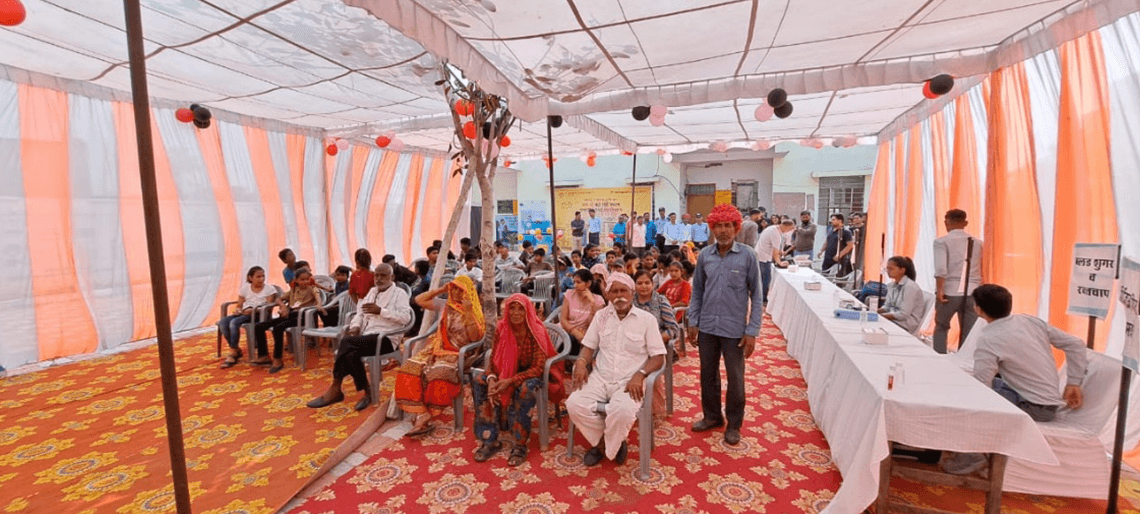 Social Projects for The Benefit of The Community
Cleanliness awareness campaigns were conducted, and informative pamphlets were distributed to the villagers residing in Dehmi Kalan, Begus, Thikaria and Sanjharia, Jaipur, Rajasthan. The students and professors of Manipal University Jaipur conducted the same and ensured that the villagers are maintaining cleanliness in their surroundings.
Cleanliness drives were conducted, and 65 dustbins were installed on the roads.
A police booth was constructed at Bagru, Jaipur for the safety of the community.
2 Bus shades with seats were constructed for the benefit of the community.
Solar Street lights were installed on the approach road from the highway to Dehmi Kalan Village at Jaipur and also at Gantigenahalli, Muddanahalli and Nagadasanahalli, Karnataka.
The road before and after the cleaning activities and after placing the dustbins