The major focus of Manipal Foundation for 2023-24 is to enhance the quality of life by supporting children, women and breadwinners partially supporting them to bear the cost of any serious/ life threatening medical interventions.
Until September 2023, some of the key initiatives undertaken are narrated below: –
1. Girl child aged 3 years and six months suffering from Epilepsy
This little girl (age 3.6 years) used to suffer from Epileptic attacks, about 50 times in a day, despite taking medication Finally, she was recommended a Right fronto-temporo-pareital craniotomy and excision of lesion at Manipal Hospital, Millers Road, Bangalore. Since then, this little girl has had no recurrence of this attack enabling her to lead a normal life.
2. Girl child aged 4 years suffering from Neuroblastoma
A four-year girl, daughter of Abdudural Gaffari, had already undergone surgery, chemotherapy, bone marrow transplant and radiation. Clinically, it was advised by the clinicians at Kasturba Hospital, Manipal that administering doses of immunotherapy would ensure better survival. The family contributed a significant amount, and the balance was arranged through donors to Manipal Foundation. Timely support of the vendor ensured that the medicines reached on time. We pray that the child will benefit from the collective blessings of all the people who have volunteered to support her recovery .
3.Other Initiatives
117 patients have been treated and part of their treatment cost has been funded at various Manipal Hospitals, who have also practically offered their services at cost.
20 Vaccine carriers manufactured by Blackfrog, a company started by the alumni of Manipal Institute of Technology, Manipal were distributed to Primary Health Centers at Andhra Pradesh. This innovative dry refrigeration device enables preservation of the quality of vaccines at the desired temperature for prolonged periods of time and has a 12-hour battery support. This device is also capable, with minor modifications, of transporting other products, blood, plasma, insulin, medicines etc.
175 cataract surgeries were funded for senior citizens belonging to the marginalized segment at Bangalore.
6000 students studying in Government Schools were supported along with Akshay Patra Foundation to get mid-day meals for the entire year,
Educational support in terms of tuitions and scholarships
Smart Math lab program which was launched in June 2023 in the presence of the Block Education Officer. Unique methods of teaching and the interpretation of the mathematical concept by the students using the models specially designed by experienced teachers of the Smart Math Lab helps students to understand and retain complex mathematical concepts easily and finally score well in the examinations.
2.Funding support has been provided to the students residing in remote villages at Keonjhar, Odisha studying in Utkal Gaurav School. The school ensures that the students are groomed not just in academics, but also in extra-curricular activities.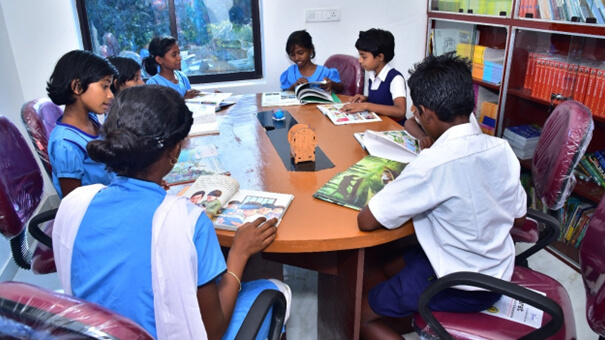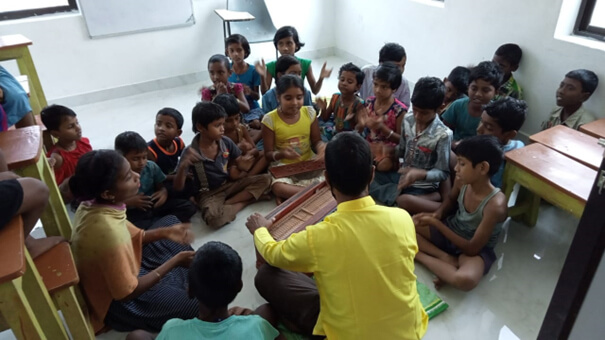 3.An Educational and Awareness Program explaining the importance of wild animals like tigers, elephants, hyenas etc. and sensitivity towards them was conducted in Government schools which are located close to the wildlife reserves. These children, who are constantly exposed to these animals have witnessed the destruction created by these animals. This program helps to explain to these children that it is very important to preserve them for our own survival. 800 students benefited through this program.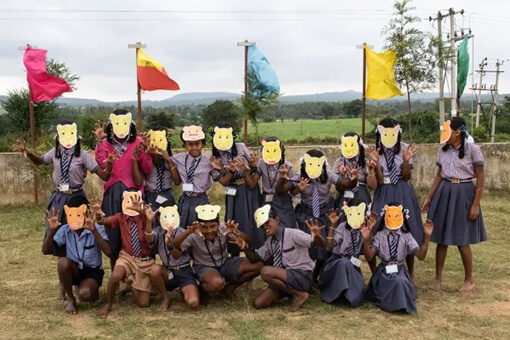 4.The Sunbird Trust led by an ex-army colonel, has over the last 14 years been actively working in the Northeastern states, especially Manipur along with the Indian Army.
The Trust works towards restoring normalcy in insurgency affected areas of NE India through a process of Peace through Education, by providing access to education. They build schools and hostels in remote areas and sponsor the education cost of students. The volunteers from Teach For India play an active role in implementing these projects in these difficult locations.
The school's reach extends to more than 14 villages within a 10-15 km radius, none of which have any other reasonable educational facility. These facilities are within forest areas and are very difficult to access (non-motorable roads). Hostel accommodations are provided to these students.
There is active participation from Assam Rifles to engage with the students with various activities thus strengthening bonds.
Manipal Foundation supports the tuition and hostel fees for 270 students.
PLEASE JOIN US IN MAKING AN IMPACT IN THE SOCIETY